Article
Frontline fighters for justice
10.09.2019
By Rikke Hovn Poulsen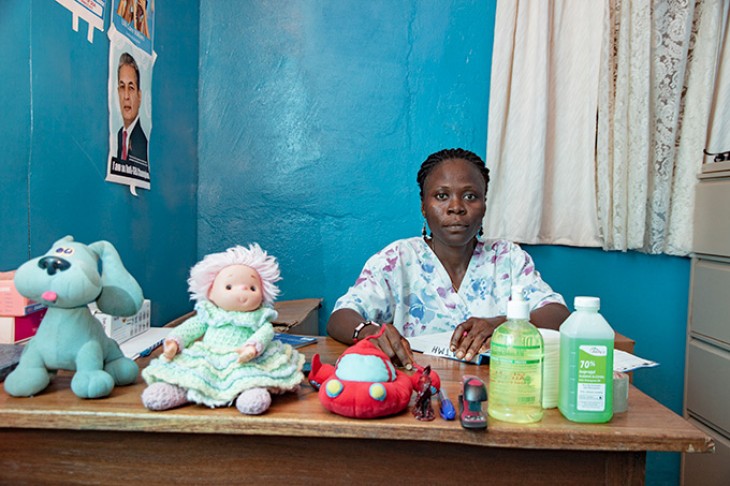 It is not right that someone can rape a little girl and never go to prison – but this can happen when cases are settled in the 'traditional' system rather than in the judicial system. In collaboration with Liberia police and nurses, Oxfam is trying to get more women to report gender-based violence.
A lamp has been standing next to the examinations table in nurse Amelia Vortspor's windowless office for as long as she can remember. But the hospital has never had the money for a light bulb. Every time she examines a woman or a little girl who has been raped, Amelia has to see by the flashlight on her cell phone.
That is the reality here in Greenville, a city of about 25,000 inhabitants deep in Liberia's rainforest. Amelia Vortspor's job is to handle all patients at the hospital who have reported sexual or gender-based violence. Rape and other forms of violence against women are distressingly common in Liberia, but few of the victims come to hospital – during eight months in 2018, only 19 survivors found their way to her office.
"Violence against women is everywhere in Liberia. But we only see a fraction of the cases here at the one-stop centre. The victims are embarrassed, and sometimes they think it's their own fault - maybe because of the way they dress. My job is to help them move on," says Amelia Vortspor.
Apart from her cellphone flashlight, the only light source in Amelia's office is a neon tube on the ceiling that fills the room with a cold, blue glare. She has tried to make it less scary for the youngest patients with teddy bears and toys. It is difficult, because the cases are violent and the hospital's resources scarce. But she is trying hard, because she knows that she is making a huge difference to the survivors.
"The best thing about my job is when I feel that I give good support to my patients. They are deeply traumatized, but I am able to help them and give them hope that not everything is lost - that they can get justice, and that they can go back into society again, even though this has happened to them," Amelia Vortspor says.
Unfortunately, she sometimes finds that the victims and their relatives do not want – or dare – to take action against the perpetrators through the judicial system. Often the perpetrator is a relative or neighbour, and rape is a taboo subject. Families frequently choose instead to settle the cases in the 'traditional' system, in which the village elders decide guilt and punishment.
But when everyone knows each other, and men generally have more say than women, these cases rarely bring justice for the victims. For example, an 11-year-old girl who has been raped by her uncle risks being forced to marry him.
"The traditional system does not handle the cases properly. It often ends up with the same women coming back to my office shortly afterwards with new injuries. It is very frustrating, and it makes me sad," the nurse says.
Public servants are allies
Being seen and feeling heard by people like Amelia Vortspor is one of the most important things for the brave women who choose to go to the authorities after experiencing sexual and gender-based violence, says Annemette Danielsen, who is head of Oxfam Denmark's FLOW program to combat violence against women in Liberia, Burundi and Guatemala.
"All over the world, victims of violence need the same things: treatment, protection and justice. It is crucial for their ability to heal and move forward. And all these things are public services," says Annemette Danielsen.
That is why Oxfam Denmark – in close collaboration with local partner organizations FCI, NIPO and Respect – runs courses and individual training sessions for nurses, social workers and police in the Liberian towns of Zwedru and Greenville. Here they learn about survivors' rights, and procedures and best practices for how they should be treated. At quarterly inter-agency meetings, service providers come together to discuss challenges and issues to strengthen their collaborative efforts in supporting survivors.
It is working: since 2018, for comparison, the number of cases sent to court has increased by 15, and two cases have ended with a verdict.
"Of course, the system still has its flaws - we cannot change the culture overnight. But things are moving in the right direction. And the public servants have become strong allies in the fight against violence," says Annemette Danielsen.
Dedicated police
For some, the fact that the local police force has become such a close partner may appear controversial. As in many other poor countries, Liberia's underpaid law enforcement officers struggle with a reputation for corruption and bribery.
"Through this program we give the police a sense of pride in their profession. They get some practical tools that help raise the quality of their work. And suddenly, they begin seeing themselves as important - as someone who can make a difference in the fight against violence. People in the communities sense that very quickly, and their trust in the police is growing," explains Annemette Danielsen.
There is definite agreement on this at the Greenville police station. Anthony Kumeh is head of the three-man department for protection of women and children, which is housed in a small building behind the police station with a water-damaged ceiling and chickens running around the yard outside. In total, 50 police officers from across the county have participated in the training, and they feel it has really made a difference.
"We are very happy about the training we received from Oxfam and NIPO. We learned a lot of new things we didn't know before: how to meet the victim, investigate the crime scene, and gather evidence. For example, we now tell the victims not to shower until we have taken them to the hospital," Anthony Kumeh says.
The policeman is convinced that there are still many cases of violence against women that never come to the police's attention. But things are moving in the right direction, and he is experiencing day by day that more victims are coming to the police for help in cases of rape, sexual assault, prostitution and other forms of exploitation.
"Violence against women is everywhere in Liberia, it has no limits. But it will not be recognized or systematically addressed unless it is reported," he emphasizes.
About the programme
Title: "Women, adolescents and girls in Guatemala, Liberia and Burundi live a life free of violence and as active citizens"
Grant total: 10.646.144 Euro
Grant period: 5 years (from January 1st 2016 to December 31st 2020)
Funded by: The Dutch Ministry for Foreign Trade and Development Cooperation