Article
Women fighting for their rights in the rainforest
10.09.2019
By Rikke Hovn Poulsen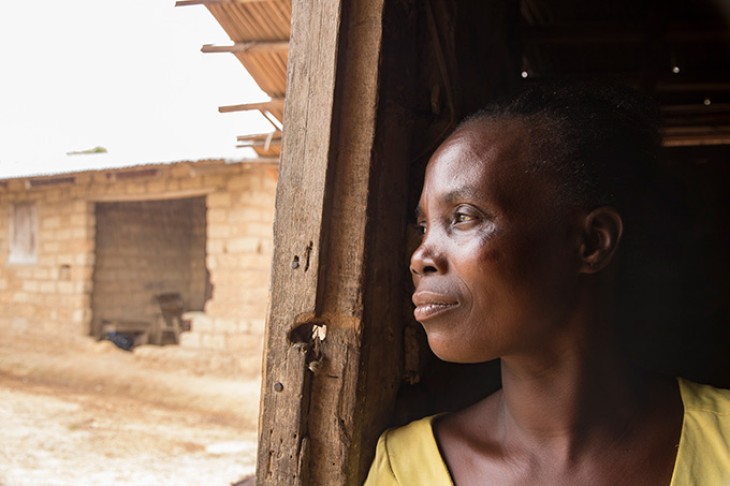 Until a few years ago, women's rights were not discussed in the village of Janzon in Liberia. Then the strong women of the village joined forces, and now they are demanding more influence and equality.
Lowinre T. Wehayee's marriage was never happy. Her husband beat her when he was drunk - and he often was. He helped neither in the house nor in the field. And in the end, he left her and their four children for another woman. "I spent many years being unhappy and worrying about how to manage without a man," says Lowinre T. Wehayee.
That changed when Oxfam's partner, the Foundation for Community Initiative (FCI), started a women's group in Janzon two years ago to fight violence against women and strengthen their participation in community life.
In the beginning, it was not so much the message of women's rights that attracted Lowinre T Wehayee show up. I – it was the teaching of trade and agricultural techniques, another part of the package. This gave the women some concrete tools that they could use right away to make more money, and it sparked interest in what else FCI had to offer. "I became a better farmer and a better businesswoman. And it dawned on me that I could handle a lot of things myself," says Lowinre T. Wehayee.
Self-confidence spread among the women of the village. They started to pool their savings, and make loans to help each other out when they were in need. The women began to talk about gender roles and the violence they almost all experienced, but had never before spoken about. It dawned on them that the distribution of work in the homes was not fair – the men should help more.
"Now the women stand together. If we hear of a man beating his wife, we go to him and say it's forbidden and he risks going to jail. Of course, there are some men who get angry with us. But the violence has diminished and the men respect us, "explains Lowinre T. Wehayee.
Somewhere in the process, a fire was lit in Lowinre. She realized that she actually had a lot of options. She was good at creating support and togetherness. When asked if she wanted to be the leader of the women's group, she was in no doubt. "I have become a leader in creating change. And it has dawned on me that everything a man can do, so can a woman," she emphasizes.
Lowinre T. Wehayee is a woman of ambition. It shines through as she shows off the clay huts on her small plot: "This is my house where I live with my children. The cabin over there is mine too. And the goats. And then I am saving up for a house in town that I can rent out," she says. Here in Janzon, owning all this is something of a feat for a single woman. But the 45-year-old farmer and businesswoman wants more than that: "I plan to put myself forward the next time we choose the chief in the village. I know I have many supporters. I will probably succeed," she declares confidently.
Lowinre T. Wehayee has power, and she is politically tough. She has succeeded in turning a hopeless situation into an extraordinary success story. Her village is several days' journey from the capital on dirt roads that are often impassable. Equality is not traditionally at the top of the agenda in such remote areas, to put it mildly. But it is now, thanks to Lowinre and her cool sisters in the village's women's group.
'Women's time is over'
Back in the early 2000s, Liberia was one of the African countries that really moved on the equality front. After 14 years of civil war, the women's movement was one of the main forces behind the peace process, culminating in the first free, democratic elections in 2005. Ellen Johnson Sirleaf was elected president - the first woman president in the African continent.
It was a fantastic victory for the women's movement that had helped to carry 'Ma Ellen' forward. One of her election promises was, of course, to fight for women's rights. But when she came to power, she was bogged down in other issues. Liberia is one of the poorest countries in the world, with mounting problems from corruption to lack of schools and hospitals to the miserable roads that make it impossible to travel from one city to another during the rainy season.
When Ma Ellen left the presidential post last year, there had not been many improvements for Liberia's women. Some even think the situation has gone backwards. Violence is still part of everyday life and women are highly under-represented in political life, from village councils to parliament.
"Many Liberians were disappointed with Ellen Johnson Sirleaf, and said 'women's time is over' - they would never vote for a woman again. If she had been a man, it would have been his personal failure. But now this attitude is affecting opportunities for all the country's women," says Lisa Kindervater, who works for Oxfam's equality program in Liberia.
Together with her colleagues, she struggles every day to improve those opportunities. She believes she will succeed – but it requires a showdown with some deeply rooted traditions.
Women are kept away from power
Although modern institutions such as the police and judiciary are gaining ground across the country, Liberia's traditional leaders and chieftains still have great power outside the capital Monrovia. These leaders are overwhelmingly men - and in many places women are banned from the forums where decisions are made.
"It's a vicious cycle. When women are not part of public life, they cannot help to make things better," explains Lisa Kindervater.
As an example, she cites the religious devil masks for which many Liberians have deep respect. Each tribe has its own mask, with associated rules and traditions. In the 2017 election campaign, the masks became a political instrument: tradition calls for women to stay indoors when the male mask appears, and in many places men brought out the masks when female candidates came to the village to hold election meetings. In one village, when a female candidate insisted on conducting her campaign meeting anyway, the men put her in a canoe and pushed her out on the river, saying that a woman should not come from outside thinking she can defy their traditions and religion.
"Liberia is a very male-dominated society. But this is not a law of nature. Gender roles and repressive norms can easily be changed - we see this every single day in Oxfam as we help women demand their rights and have greater influence, from parliament to the village councils," explains Lisa Kindervater.
About the programme
Title: "Women, adolescents and girls in Guatemala, Liberia and Burundi live a life free of violence and as active citizens"
Grant total: 10.646.144 Euro
Grant period: 5 years (from January 1st 2016 to December 31st 2020)
Funded by: The Dutch Ministry for Foreign Trade and Development Cooperation